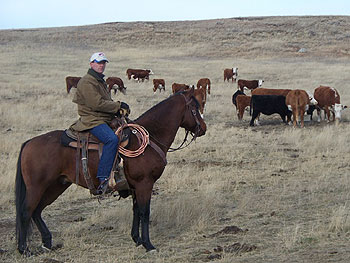 TRR Paddys Texas Gin aka "Tex" is a 2006 son of Paddys Irish Whiskey. We were looking for a stallion with a lot of cow and versatility and were immediately impressed with Paddys Irish Whiskey who stands at the 6666 Ranch in Texas. Paddys Irish Whiskey is a full brother to Grays Starlight and Gallo del Cielo all out of Docs Starlight and by Peppy San Badger. Wow! What can we say about Peppy San Badger "Little Peppy" revolutionizing the cutting horse industry that hasn't already been said.
Paddys Irish Whiskey has NCHA earnings of $12,149 and was a Multiple Major Aged Event Finalist NCHA Money Earner. He is listed on a Leading Sire list each year since he was purchased by Paddys Irish Whiskey Syndicate, he is an NRCHA All-Time Leading Sire and an Equi-Stat All-Time Leading Reined Cow Horse Sire (2017). His foals have earned $1,547,700 and 4,820 AQHA points, 35 AQHA World/Res. World Championships including 2-time AQHA World Champion Versatility Ranch Horse Smart Whiskey Doc. Paddys Irish Whiskey's page on the 6666's website includes our stallion, Top Gun Whiskey (also on our website), as one of his current performers.


As per the 6666's website, Paddys Irish Whiskey has earned the respect as a consistent sire of both class and high-end trainability for all walks of the reining and cowhorse worlds, siring champions in versatility ranch horse, reined cowhorse, cutting, reining, calf roping and team roping. He is also a great broodmare sire. He was a 2008 Equi-Stat Leading Cutting Maternal Grandsire, whose daughters have produced 33 money-earners totally $363,000 and averaging more than $11,000 in cutting, reining, reined cowhorse, ranch horse and roping events.
We purchased Tex from the Tongue River Ranch at Paducah, Texas. The Tongue River Ranch is one of the syndicate owners of Paddys Irish Whiskey. We cannot say enough good things about the Tongue River Ranch, their horse program and contribution to good ranch horses.

Since Paddys Irish Whiskey was bred and stood at the John Scott ranch in Montana, there are several of his sons in the Montana, North Dakota, South Dakota areas out of Doc O Dynamite daughters. We are excited for Tex to bring the Tanquery Gin bloodline to the northern plains through his dam's pedigree. Tanquery Gin is an Equi-Stat All-Time Leading Cutting Sire of foals earning over $2.3 million and an Equi-Stat all-time leading cutting maternal grandsire. According to the 6666s website his daughters have produced foals earning more than $2.5 million and 5,336 AQHA points.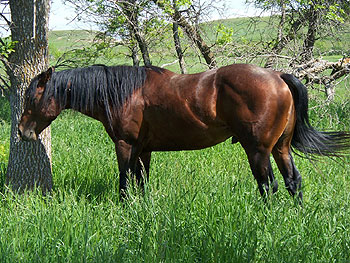 Pictured in breeding condition with the mares in 2009
Tex was started under saddle as a two year old in 2008 before the breeding season and has been ranch ridden since then. He shows some cow, some grit and plenty of athletic flexibility and suppleness. Our intention is for him to earn his keep as a regular ranch horse.
Tex brings good bone, foot size and substance as well as his athleticism. He has good black feet and minimal white with only a partial white rear pastern and a very small star. Tex brings plenty of "cow", moderate size, versatility and his flexibility athletics to our ranch, cutting and speed bred mares producing foals that can be athletes in any direction they go.

We will update with more pictures and accomplishments as Tex matures. We are excited to get his offspring out into the public to see what they can do. Thank you for your interest in this young stallion. We have several more candid photos that we are willing to email people interested in seeing more of him. There are also additional photos of him on our 'Work and Play' page. You are welcome to come visit and look at him in person as well. His first foals were on the ground in 2009. Tex does not stand to the public.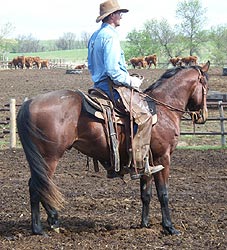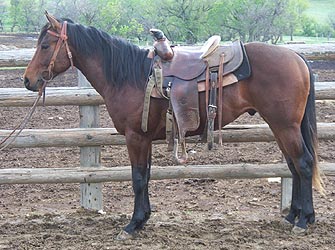 Pictured in 2 photos above as a 2 year old

---